Skiing is not only a fun oriented game but it is played on a huge platform as tournament. So whether you are a fresher for this game or an old player you need few minimum types of equipment. You need one skiing clothe, gear and equipment. So put on your dress and get ready for skiing.
Ski Clothes – The most important part for skiing is ski clothes. In a snowy and cold environment if your body is not feeling comfortable then it throws big impact on your ski performance. So wear ski clothes that fit to your body structure and just jump on snowy slopes.
Poles of Ski- Ski pole is the equipment along with you play skiing. So be careful while selecting ski poles for you. The perfect ski pole let move your feet on right direction and in correct sequence. It should be adjustable so that it could be managed properly on snows. Along with pole its grip type, its weight and basket type also matters in the same rate. As because accurate combination of all these make your skiing path very easy and comfortable.
Boots of Ski- Another important equipment for skiing is the ski boots. If your ski boot is not comfortable then it will hamper your performance a lot. The ski boot size should match the size of your feet so that while skiing you wouldn't feel unhealthy. Like other type of racing sports as we need correct shape and size of shoes otherwise we may fall down on the ground. Same way as per the snow type and slope we need the ski boots accordingly. So buy the right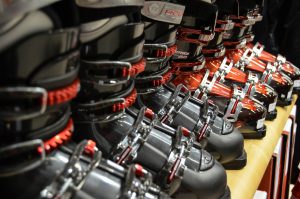 ski boot for you and get ready for skiing.
Helmet- Your ski helmet works as your face and head protector so be careful for selecting ski helmet for you. It should be of correct shape and size and capable of providing feeing of comfort to your head. A ski helmet keeps your head warm and safe. It should not be either very loose or very tight otherwise you cannot concentrate on the ski ground. Also there should be enough place for wearing your goggles moreover for skiing on heli the helmet should be of correct shape so that your ears can listen well to the outer voice of instruction otherwise you can go in a wrong direction. The ski helmet not only provides safety to your head but it also keeps it warm, comfortable and adaptable to the snowy environment.
Ski Goggles and Sunglasses- We cannot deny the importance of ski goggles and sunglasses as per skiing is concerned. It should be of correct shape and size so that it can protect your eyes from heavy snow fall, heavy wind, sun storm, bad weather etc. Your goggles should have of correct lanes so that it can adapt to the environment. You should choose goggles with many lances so that you can change it from time to time as you face the condition or you can carry 3-4 goggles with you and change it for adapting the environment. Also sunglasses are needed for heli skiing. You cannot enjoy your skiing unless you have correct set of sunglasses or goggles.
So play your favorite sport with high spirit and with correct equipment for ski and enjoy your day.