Skiing is not only played for fun by the ski lovers but it is played on a larger scale as a wither sports now throughout the world which is supported and regulated by the FIS which is an abbreviation of International Ski Federation. At very old time it was used for the purpose of transporting by the snowy countries. Later on it was emerged as sports or played for making fun. Here is a list of some renowned skiing sport which is played worldwide.
Free Ski Style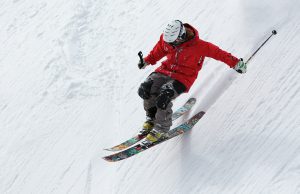 The Free Skiing Style is one of the simplest forms of skiing. In old time it was used to be played just for making fun and not as a tournament. This includes skiing on slopes of mountain. This includes the snow parks that are specially built for skiing. A skier can have lots of fun on this well created park along through its kicks and rails. For free skiing you need equipment that is constructed specially for this type of skiing. So go and get ready for free skiing along with the right gear.
Extreme Ski Style
If you love adventure and don't fear whatever the situation you face then extreme skiing style is best suitable for you. This kind of ski player needs to be very careful and attentive as because even a single mistake could be proved very dangerous for the player. It is played through big and deep slopes so while passing through the terrain which is constructed for extreme skiing, one should remain alert all the time. For playing extreme skiing the player needs appropriate training otherwise a small mistake may lead to a big physical injury.
Alpine Ski Style
Alpine Skiing style is very much similar to the cross country skiing. It is very famous form of skiing. In this type of skiing the skiers, skis through hills by skis and sleek. It is mainly played in skiing based resorts and snowy mountains. The skiers need to have proper control on him while playing this kind of skiing. So a full training is needed before playing alpine ski so that you can control your speed and run through proper direction.
Cross Country Ski Style
Cross Country Ski is world famous winter sports and is played only on those snowy places where thickness of snow is high and long snowy field remain available. This is not only a sport but is played as a hobby too by many. For this type of skiing special variety of skiing equipment are needed such as long and sleek skis, aluminum made poles, special type of ski bindings,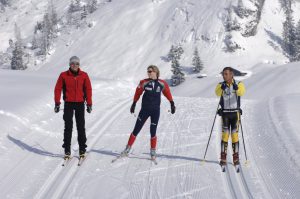 two poles are used together for Cross Country Ski. The skiers can play different variety of ski under this style of ski.
Backcountry Ski Style
Backcountry ski form is mainly played in the areas which are unpopulated or undeveloped. There is no proper skiing route exists for this type skiing. It is equally risky like the extreme ski form. There is special equipment and designed clothes are needed for this.  For best practice and enjoyment in the backcountry skiing form there should be proper skiing route.
Other than above mentioned skiing sports there are some other forms of ski is too which are Biathlon, Grass skiing, Heli skiing, Night skiing, Ski Joring, Ski Jumping, Mountaineering ski form, Touring ski form, Snow boarding ski form, Speed skiing style, Telemark ski style, Water skiing etc.