Skiing can be fun on your spare time and you would want to have an outdoor activity that will light up your day. Choosing such an activity can be difficult especially when faced with scarcity of choices. However, you need to consider skiing as one of the outdoor activities you could do. Confused about the destinations?  Here is a guide that will give you some famous destinations in North America.
Big Sky, Montana
This location is one of the all-time favorites expanding to a total of 8,000 acres because of its large Moonlight Basin that is 5,800 acres and an additional ski resort that covers 2,200 acres. The size of this place has made it popular in the U.S. because of its ability to absorb large numbers of people. The area has Park City ski resort that has supplies and equipment for renting out for visitors. It is precisely the place one would love to belong.
Whistler Blackcomb, Canada
The location is undoubtedly the largest in the region despite the efforts from other facilities expanding to outdo the record. Precisely, it covers an area of 8, 171 acres and has beautiful mountains, a wonderful forest, and clear routes. The place will color your skiing experience with its size and mountain views.
Park City Mountain Resort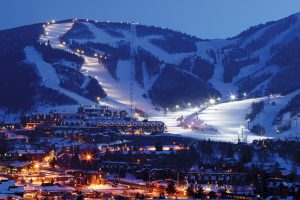 This resort is suitable for winter destinations because as others will be missing the summer sun, it will be your opportune moment to acquire your skis and hit the powder. The place in North America and covers an area of 7,300 acres. It is essential to note that the resort underwent a merger process that saw it combine with Canyons ski resort that led to this large size.
Vail, Colorado
This is the fourth largest resort in North America though it used to be ranked third but after massive expansion. The place covers an area of 5, 289 acres and it is beautiful enough to strike you with the glamour that exists in this place.
Sun peak, Canada
With the expanding number of skiing lovers, this destination has been a sure deal for people as it boasts of beautiful scenery as well as a view that will blow your mind. It is 4,270 acres big and is the second largest one in Canada and position six in North America.The panoramic views have been one of the attracting factors in this place and have effectively increased the number of visitors.
Lake Louise, Canada
The facility is position seven in size with unique slopes and deep powder for your skiing activity. The resort has extension services that will see you fully covered if you had no the required material. The facility is also affordable.
Mt Bachelor, Oregon
The last in my list is a 3,683 acres resort hat expanded recently to this size and it is competing fairly with other resorts in North America.
To sum up, choosing a better location for you is important because it will enable you fully enjoy your outdoor activity without any regrets.